The insurance covers:
Mats, Clothing, Protective Equipment, Dummy Weapons and General Stock against the following:
Fire, lightning, explosion, aircraft, storm, water damage, impact, malicious damage, accidental damage (excluding whilst in use for the sport) and theft (subject to forcible and violent entry) anywhere in Great Britain, Northern Ireland, the Isle of Man and the Channel Islands.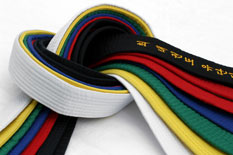 The Kit will be covered providing it is:
In a secure building at the club premises or at your home premises, subject to minimum standards of security detailed here
Stored out of sight in your locked motor vehicle. Overnight theft from a motor vehicle will be excluded unless the locked vehicle is in a locked garage.
A single item limit of £200 applies and the policy does not cover the first £50 of any claim unless specifically agreed.
Examples of cover
The following gives you an indication of the premiums and cover. For a firm quote, please complete our proposal under How to Apply below.
| | |
| --- | --- |
| For Kit valued | Annual Premium |
| Up to £1,000 | £52.50 |
| £1,001 to £2,000 | £105.00 |
| £2,001 to £5,000 | £210.00 |
| £5,001 to £7,500 | £288.75 |
| £7,501 to £10,000 | £341.25 |
| For values over £10,000 please call us on 01603 626904 for a quotation. | The above premiums are fully inclusive of Insurance Premium Tax |
How to apply
Please complete our proposal form
, either by hand, or by typing your information into it, and then either post it to us, or attach it to an email it and send it to us at:
If you need assistance with any aspect of completing the proposal form, please call us on 01603 626904
If you prefer to post the proposal form document, please send it to:
St Benedicts Ltd, Jonathan Scott Hall, Thorpe Road, Norwich, NR1 1UH